The US declared a new order barring passengers on flights originating in eight Muslim-majority countries from carrying any electronic device bigger than a mobile phone after a revised travel ban order was signed lately by the US president Donald Trump.
Donald Trump has signed in January an executive order that will limit immigration and refugees from some Muslim-majority countries, fulfilling a campaign-trail promise to introduce what he dubbed "extreme vetting."
The order bans Syrian refugees, claiming they are "detrimental" to the interests of the United States, and suspends the refugee admissions program for all countries for 120 days. It will also suspend the issue of visas to nationals of countries where the US believes they do not provide enough information on an applicant to decide whether or not they are a security or public safety threat.
Those countries were Iran, Iraq, Libya, Somalia, Sudan, Syria, and Yemen.
This order created chaos in the US as many considered it unlawful and sought to stop its implementation, and was blocked later by several federal courts in the US.
However, Trump's administration kept working on a new travel ban order and announced it on March 6, to be followed on March 21 by a new order barring passengers on flights originating in eight Muslim-majority countries from carrying any electronic device bigger than a mobile phone.
"Electronics ban" on Middle East travelers
Senior US officials told reporters that nine airlines from countries in the Middle East and North Africa had been given 96 hours, beginning at 7:00 GMT on Tuesday, to ban the devices from the cabin.
Laptops, e-readers, cameras, tablets, printers, electronic games and portable DVD players are affected by the ban – which applies to direct flights to the US – but they may still be stowed in the hold in checked baggage.
The DHS said the ban was necessary as "terrorist groups continue to target commercial aviation and are aggressively pursuing innovative methods to undertake their attacks, to include smuggling explosive devices in various consumer items.
"Based on this information, Secretary of Homeland Security John Kelly and Transportation Security Administration Acting Administrator Huban Gowadia have determined it is necessary to enhance security procedures for passengers at certain last point of departure airports to the United States," the statement said.
The ban will apply to nonstop flights to the US from 10 international airports serving the cities of Cairo in Egypt; Amman in Jordan; Kuwait City in Kuwait; Casablanca in Morocco; Doha in Qatar; Riyadh and Jeddah in Saudi Arabia; Istanbul in Turkey; and Abu Dhabi and Dubai in the United Arab Emirates, until the threat changes.
"DHS, in close cooperation with our intelligence community partners, selected these airports based on the current threat picture," read the statement, adding that new airports could be added to the list.
"The new procedures remain in place until the threat changes."
The procedures will affect nine airlines: Royal Jordanian Airlines, EgyptAir, Turkish Airlines, Saudi Airlines, Kuwait Airways, Royal Air Maroc, Qatar Airways, Emirates, and Etihad Airways.
The DHS's new order was based on previous cases of airplanes downing and airports attacks.
"Terrorist propaganda has highlighted the attacks against aircraft in Egypt with a soda can packed with explosives in October 2015, and in Somalia using an explosives-laden laptop in February 2016," the DHS statement said.
"Terrorists have historically tried to hide explosives in shoes in 2001, use liquid explosives in 2006, and conceal explosives in printers in 2010 and suicide devices in underwear in 2009 and 2012. Within the last year, we have also seen attacks conducted at airports to include in Brussels and Istanbul."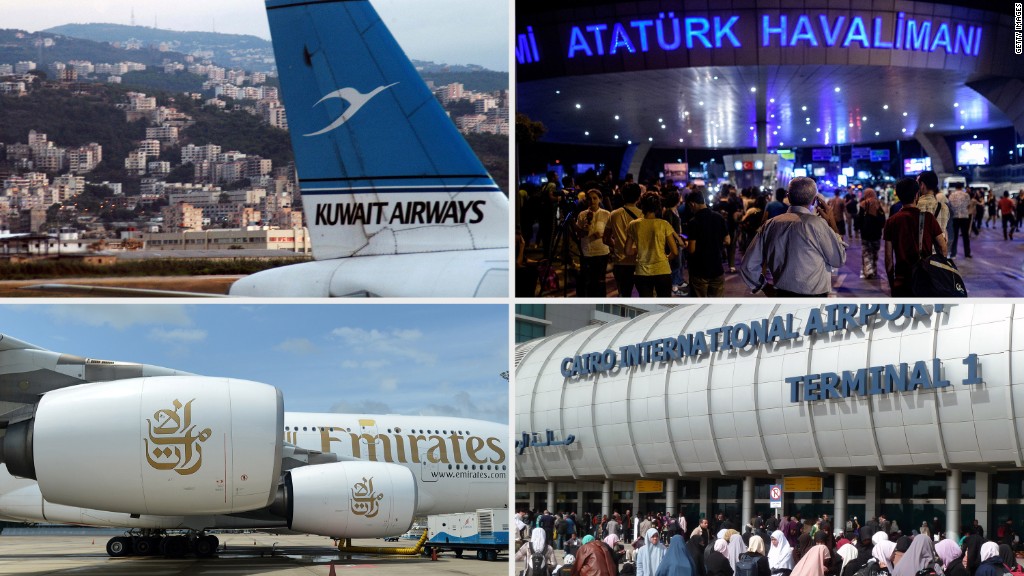 Trump's revised travel ban
Earlier in March, President Donald Trump has signed a revised executive order banning refugees and citizens from six Muslim-majority nations from entering the United States.
For 120 days, the US will not allow any new refugees into the country and for 90 days, visas will not be issued to people from Iran, Libya, Somalia, Sudan, Syria, and Yemen.
These are the major changes to Trump's first immigration order, which was blocked in the courts.
Iraqis off the list – Iraqis are removed from the list of banned nationals. The White House said Iraq was removed because it has imposed new vetting procedures such as heightened visa screening and data sharing, and because of its work with the US in countering ISIS.
Only new visa applicants included – Travellers from the six banned countries who already have visas, and refugees who have already been given visas will not be barred from entering the US.
"Green card" holders and dual citizens exempt – Permanent residents of the US or dual-national citizens from listed countries will not be turned away and "green card" holders traveling abroad will no longer be at risk of being unable to return home.
Implemented from March 16 – The original ban took effect immediately, without warning, causing chaos at airports as travelers already midair when the order was signed were detained in airports and others were prevented from boarding planes.
Syrian refugees not singled out – The original order banned refugees from Syria from entering the US indefinitely. The new order removes that clause.
Loophole closed for religious minorities – While the original order made an exception for refugees who are members of "persecuted religious minorities", saying they could enter the US despite the ban, the new order has no mention of religion.