Egypt's Court of Cassation has overturned a death sentence against the country's first democratically elected president Mohamed Morsi – whose trial is seen by many observers and human rights organizations as politically motivated. However, the same court upheld the release of Alaa and Gamal Mubarak, the two sons of former president Hosni Mubarak – who were accused in a corruption case related to their father.
Morsi's Death Sentence on Alleged Mass Jailbreak Overturned
The Court of Cassation has ordered that six men, including Morsi, face a retrial in connection with a mass prison break during the 2011 uprising against Hosni Mubarak.Twenty-one life sentences for other Brotherhood members were overturned.
Out of five charges leveled against Egypt's first freely elected president by Egypt's post-coup government, one ruling has been overturned, one upheld, two are currently under appeal, and one is awaiting a verdict, according to Anadolu Agency.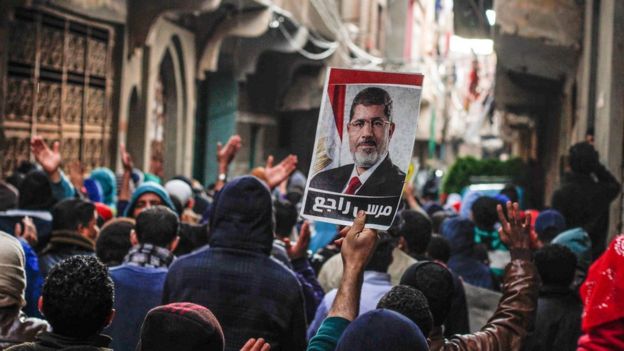 "The ruling was expected because [Morsi's conviction] was legally flawed," Abdel Moneim Abdel Maksoud told the Reuters news agency.
The prosecution of Morsi has taken place amid a wider crackdown on the Brotherhood, which General-turned-president Abdul Fattah al-Sisi has outlawed and vowed to wipe out. Hundreds of people have been killed and tens of thousands of people imprisoned in the past three years, according to BBC.
The Court of Cassation, Egypt's highest appellate court, rejected an appeal filed by Morsi and his co-defendants against their jail terms and upheld the verdict.
In April 2015, Morsi and several co-defendants were sentenced to 20 years in prison, each in connection with deadly clashes outside the Ittihadiya presidential palace in eastern Cairo in 2012.
As for the two cases under appeal, in a trial which began in February 2014, Morsi was eventually sentenced in June 2015 with life in prison and death sentences for "conspiring against Egypt" with Palestinian group Hamas and Lebanon's Hezbollah.
In the second case under appeal, on June 18 an Egyptian court sentenced Morsi to life in prison on charges of spying and leaking state secrets to Qatar.
Morsi, along with 10 co-defendants, was accused by Egypt's army-backed authorities of spying for Qatar and leaking classified documents to the Gulf statelet during his single year as president.
Human Rights Watch and Amnesty International have argued that the trials carried out by the government of Abdel Fattah el-Sisi, who led the coup against Morsi, have been political in nature and violated the rights of thousands of Egyptians.
Mass trials have sentenced hundreds of Egyptians to death. Rights groups have also called attention to the prison abuse in Egypt's detention system. Morsi himself has in the past abstained from eating prison food, out of fear for his life.
Mubarak's sons' release in 'presidential palaces case' upheld
The Cassation Court upheld Tuesday the granting of a release to Hosni Mubarak's sons in the case publicly known as the "presidential palaces case", state media reported, according to Daily News Egypt.
The court decided in favor of the currently released Alaa and Gamal Mubarak, sons of former president Mubarak, after rejecting an appeal by prosecution authorities against their release, state media reported on Tuesday.
The court refused the appeal on grounds that the two defendants completed a strict three-year prison term in the case.
The prosecution's appeal argued that the defendants have not completed their term and still had eight months left, and that the court, which granted them the release, was mistaken to have counted their pre-trial detention among the time completed, because their detention was for a different case, known as the "killing protesters case".
In October 2015, the Mubarak sons were granted a release after their lawyer Farid El-Deeb claimed they have completed, and even exceeded by six months, the three-year prison term.
In May 2015, the Cairo Criminal Court sentenced Mubarak and his sons to three years imprisonment on charges of seizing public funds by embezzling money specified for the presidential palace.
They were also fined EGP 125m, the amount of money seized by the defendants by forging the presidential budget in official statements.